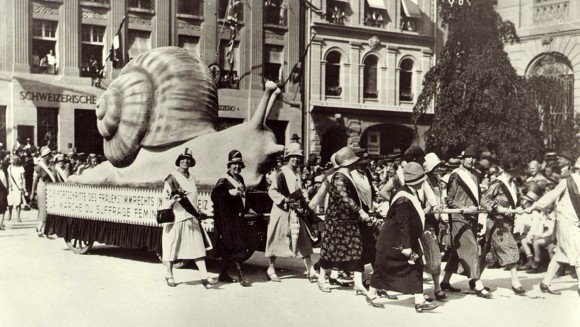 Documentary | 66' | 2012 | color | 16/9 | HDcam
Original version: French, German
Subtitles: French, German, English
A short history of women in swiss politics in the 20th century.
Switzerland was one of the world's last countries to grant women the right to vote and to elect representatives.
This film illustrates a century of Swiss history in the footsteps of some women who fought to get out of their kitchen – and some men who tried everything to put them back in – until equal rights were obtained, which in reality still seem rather fragile sometimes.
With Patricia Schulz, Brigitte Studer, Marthe Gosteli, Simone Chapuis-Bischof, Amélia Christinat, Gabrielle Nanchen, Elisabeth Kopp Cinematography Bastien Genoux, Nicolas Veuthey Sound Stéphane Goël Editing Janine Waeber Narrated by Frank Semelet Sound mix Jérôme Cuendet Graphic design Manon Roland Postproduction Bastien Genoux, Daniel Wyss Journalist Carole Pirker Director Stéphane Goël Production ClimageProduction manager Elise Shubs Coproduction Radio Télévision Suisse, Irène Challand, Gaspard Lamunière, Miruna Coca-Cozma With the participation of La Cinémathèque suisse Financial support L'Office Fédéral de la Culture (DFI), La Fondation Vaudoise pour le Cinéma, Fonds Regio Films, Le Fonds de production télévisuelle, Succès passage antenne World sales Climage.
© CLIMAGE – STEPHANE GOËL 2012
Broadcasted on: RTS, SF1, RSI1, TV5 Monde
Awards: Mejor Largometraje AND Premio del Publico a Major Pelicula de Derechos Humanos, Festival Cinematografico del Uruguay.
Festivals: Journées de Soleure 2012; Kaunas International Film Festival (Lituania); Pyongyang International Film Festival; Cinéma Vérité Iran International Documentary Film Festival (Tehran); this human world, International Human Rights Film Festival (Vienna); 15e rencontres cinéma du CCPPO, Besançon; Human Screen, International Human Rights film Festival in Tunis; Semaine du Cinéma Suisse de Montpellier; Semaines de la Francophonie au Kosovo, en Ouzbékistan, en Ukraine, au Guatemala, en Lettonie, en Lituanie et en Estonie; Rencontres Méditerranéennes du cinéma et des droits de l'homme, Maroc; Women's world film festival in Tübingen, Germany; Festival de Cine Europeo, Lima; Doc Buenos Aires; etc…