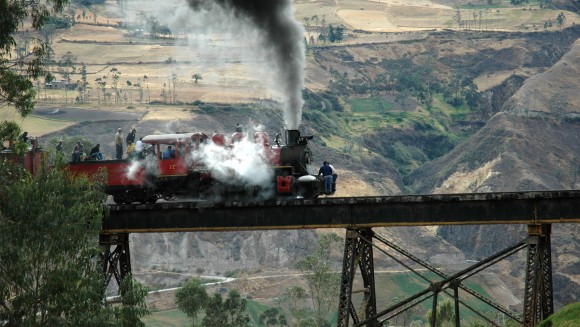 Documentaire | 50' | 2007 | color | 16/9 | Betacam Digital
Original version: Spanish, French
Subtitles: Spanish, French, German, English
The railroad in Ecuador is agonizing. This film retraces its birth, life and death. This means of transportation was constructed a century ago and was never a profitable endeavor and yet it became the link between the coastline and the highlands.
Nowadays, along the railway, only ghost towns remain. In the deserted train station of Quito, some retired railroad workers still talk about the time when the train used to travel all across the country. These old men and hundreds of miles of railroad tracks†are the last witnesses of an era fallen into oblivion.
The death of this mythical train is not only a sad event for train aficionados, it is an exemplary illustration of the decrepitude of public services in developing countries.
With Guido Jaramillo, Olmedo Garzon, Luis Idrovo, Ismael Guerra, Juan Jose Cisneros, Sergio Cuellar
Directed by Daniel Wyss Assistant Director Maria Rosa Cevallos Written by Claude Muret and Daniel Wyss
Voice over Olivier Yglesias 
Cinematography Bastien Genoux Sound Pancho Viñachi Editing Jean Reusser Music Julien Sulser Sound Mix Fabien Ayer 
Production Climage – Stéphane Goël
A coproduction with Télévision Suisse Romande.
With the kind support of the Fondation Vaudoise pour le Cinéma and of the fonds Régio Films and of the Direction du développement et de la coopération (DDC).
World Sales Climage
© CLIMAGE 2007
Grand Prix at Festival Ciné Rail de Paris
Festivals
Visions du réel, Nyon; Journées de Soleure.
ISAN 0000-0001-C2C1-0000-4-0000-0000-P