NEW FILM
Filmmaker and anthropologist Céline Pernet questions her relationship with the men of her generation. Responding to an advert, men aged 30 to 45 years old answer her questions, in a quest as personal as it is societal. Garçonnières casts an amused and caring eye, reflecting an urgent need to discuss current models of masculinity.
World premiere at the Visions du Reel Festival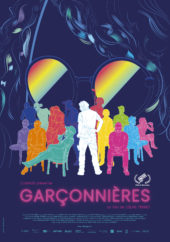 In Lausanne, a group of young women and queer persons start directing ethical and dissident pornographic films. They commit to an artistic and political approach, undertaken with joy and irreverence. Patrick Muroni portrays the adventure of OIL Productions and the advent of gender-neutral sexual liberation in Switzerland with this daring first feature film.
World premiere at the Vision du Réel Festival