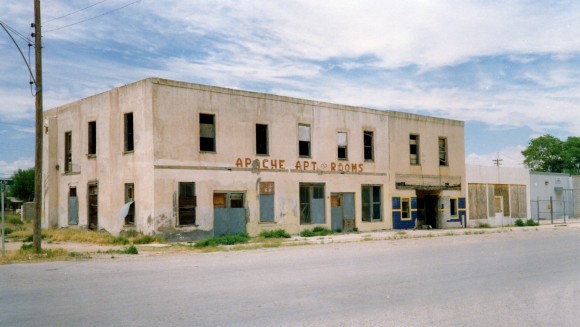 Documentary | 72' | 1993 | color | 4/3 | Betacam SP
Original version: French, english
Subtitles: French, english
In 1891 a large number of Swiss emigrated to the Pecos Valley, a desert region in New Mexico. Intensive proaganda by a group of businessmen from Geneva had convinced them they could make their fortune there. More than 200 Swiss settlers – farmers, winegrowers and adventurers from good families – set out to seek the dazzling wealth they had been promised.
West of the Pecos is a study of the social conditions that caused people to leave everything behind and of the business interests that steered their way.
"West of the Pecos is a major work, solid in its historical references, poignant in its subject matter, breathing the wide open space with compassion. It is technically superb and reveals this young filmmaker as one of our best."
Bertil Galland, Le Nouveau Quotidien
Written by Antoine Jaccoud, Stéphane Goël Directed by Stéphane Goël CinematographyCamille Cottagnoud Sound Gilles Abravanel Editing Yves Kropf, Stéphane Goël Music Jean-Philippe Zwahlen, Michel Dupuis Production Climage World sales Climage
Festivals
Journées Cinématographiques de Soleure;  Festival "Etonnants Voyageurs", St-Malo; Etats Généraux du Documentaire, Lussas; "Traces de Vie", Clermont-Ferrand; Festival de Cine Iberoamericano, Huelva; FIPA, Cannes; Vidéothèque de Paris; Swiss Institute, New York; Alliance Française, Washington; Musée National Suisse, Zürich; Festival vidéo de Gentilly; Musée d'Art et d'Histoire, Neuchâtel; Musée historique de Lausanne; Musée Historique d'Yverdon.