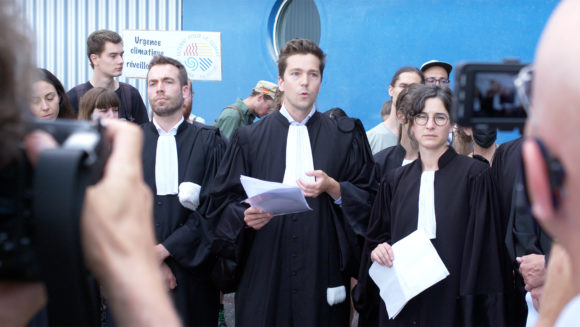 Documentary | 70' | 2022 | color | 16/9 | DCP
Original version: French
Subtitles: German / English
A film that goes behind the scenes of two court cases involving activists in the fight against climate change in Switzerland. An intimate, powerful, sometimes funny and moving journey that follows the protagonists in lawyers' offices and courtrooms' corridors. A tense journey full of pitfalls, hopes, bitter disappointments and ephemeral triumphs.
Directed by Stéphane Goël | Original idea Emmanuel Gétaz | Image Nicolas Veuthey | Sound Masaki Hatsui, Björn Cornelius | Editing Karine Sudan | Music Jean Rochat | Sound mix Jérôme Cuendet | Production Climage Audiovisuel, Daniel Wyss | Coproduction RTS – Radio Télévision Suisse Steven Artels, Bettina Hofmann | Financial support Office fédéral de la culture (DFI), Cinéforom et Loterie Romande, Fonds de production télévisuelle, Succès Cinéma, Succès Passage Antenne
70 min. – Colour – VO FR – DCP – 2022 | ISAN 0000-0005-FC32-0000-V-0000-0000-I | © Climage – RTS – 2022
Prix "Jouvence" au Festival du Film Vert 2023
Festival de Douarnenez; Journées de Soleure; Chiayi International Art Documentary Film Festival; Cinema Svizzero a Venezia