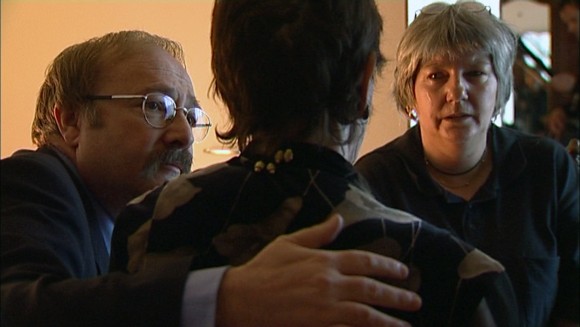 PRESS REVIEW
«A unique document made as a hymn to life. A film touched by grace.»
Euronews
---
«The most extraordinary film seen at Visions du Réel 2005 festival.»
Les Cahiers du Cinéma
---
«A moving documentary that touch us so deeply that it reminds us of our own existence and it's inevitable end.»
Jean Blaise Besençon, L'illustré
---
«One of the finest documentaries that I've ever seen. It goes far beyond most current fiction films.»
Richard Dindo, filmmaker
---
«Fernand Melgar manages to capture universal concerns of life and death in a moral outfit made of aesthetic and narrative exciting choices.»
Jean Perret, Visions du Réel
EXIT – THE RIGHT TO DIE WITH DIGNITY

BRITISH MEDICAL JOURNAL – septembre 2005, Raghav Chawla

Rating: **** (4 out of 4 stars)

Switzerland is not only known for its snow-covered mountains and for its delicious chocolate, but also for its liberal legislation with regard to suicide assistance. If no selfish motive is involved, suicide assistance is perfectly acceptable, even by non-physicians. Active euthanasia, however, remains illegal under all circumstances.

There are largely three organisations in Switzerland that offer suicide assistance: EXIT for German-speaking Switzerland, EXIT for French-speaking Switzerland (also known as EXIT ADMD) and Dignitas. Unlike the latter, which also caters for non-residents and has caused much debate on the matter of suicide tourism, both EXIT associations offer their services to Swiss residents only.

Filmmaker Fernand Melgar was first confronted with an incidence of assisted suicide while watching a news report a few years ago. "The report did somewhat shake me up, although I never questioned the choice of the suicide candidate," he recalls. "It was more the suicide assistant's perspective that bewildered me – what would motivate someone to take on such a responsibility?"

With the idea of making a documentary film, Melgar contacted EXIT ADMD. In view of the delicacy of the subject, the society's president, Dr Jérôme Sobel, initially hesitated to agree to the project. "Then again, we had nothing to hide", he says. Melgar was eventually given the opportunity to capture on film virtually all of the society's activities over a period of a year.

The result of this experiment is astounding. "EXIT", as the film has been named, is basically a compilation of typical scenes taken out of the daily life of the society. From the very beginning of the film, the spectator is essentially left to himself. Perhaps in an attempt to let the spectator make his own journey, Melgar does not impose his own interpretation. There is no narrator voice to hold on to and no journalist interviewing anyone and summarising things for us. Instead, the film builds essentially on the intimate conversations between its characters, including suicide candidates, other members of EXIT, relatives, friends, accompanying volunteer workers, secretaries and others.

Melgar merely takes the role of the passive observer. Little by little, the spectator learns about the motivations of suicide candidates, about their ups and downs, about the feelings of their close ones. We are also introduced to the society's strict guidelines and to how things are organised. We learn how difficult it is to be an accompanying volunteer worker. "This is not something you can do as regularly as clockwork. It's an exceptional act every single time. I'm exhausted after every assisted suicide," Dr Sobel points out.

Ultimately, the film shows how peaceful the process of an assisted suicide can be. The individual does not need to jump off a bridge in order to end his profound suffering. Instead, he simply drinks a glass of "magic potion" and fades in the company of his loved ones. A dignified death is each individual's own choice. Moreover, it is his final request to society – who are we to deny him our support?

© BRITISH MEDICAL JOURNAL, 2005 . Droits de reproduction et de diffusion réservés.
---