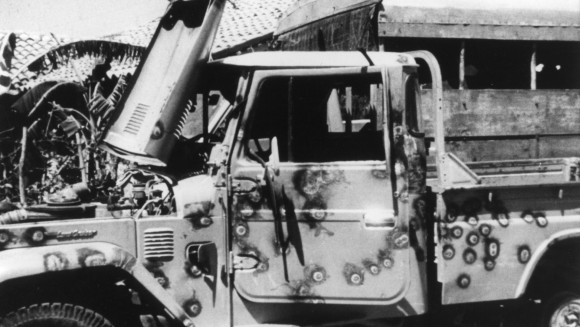 Documentary | 70' | 2006 | color | 16/9 | Betacam Digital
Original version: French, Spanish
Subtitles: English, German, Spanish
The Sandinista revolution incited hundreds of young occidentals to realise their political ideals in Nicaragua. Everything seemed possible in a country in full socialist reconstruction after decades of Somoza's totalitarian regime. A generation of activists joined the revolution and experimented with it daily.
From 1982 onwards, "the Contra", a counter-revolutionary guerilla financed by the USA, made attacks on the country to weaken the Sandinists. The civil war claimed 50,000 victims, among whom there were some twenty young foreigners.
After four years spent in Nicaragua, Swiss agricultural engineer Maurice Demierre was killed in an ambush on 16 February 1986. He became a martyr of the revolution.
The film goes back over Maurice Demierre's and his companion Chantal Bianchi's journey, from their departure from Switzerland in 1982 to Chantal's pilgrimage to Maurice's grave twenty years after his death.
For her, this was a way of coming to terms with the death of her companion, just like the Nicaraguan people had to come to terms with their revolution.
With Chantal Bianchi, Sergio Ferrari, Florentina Pérez, Santiago Mercado  Ruiz, Silvia Mercado Uriarte, Viviane  Luisier, Soledad Espinal Directed by Stéphane Goël Assistant Claude Bianchi Cinematography Steff Bossert Sound Marc Von Stürler Editing Karine Sudan Music Corinne Galland, Paco Lobo, Julien Sulser Sound mix Luc Yersin Production Climage Coproduction Télévision Suisse Romande: Irène Challand, Gaspard Lamunière Financial support Office fédéral de la culture (DFI) Suisse, Direction du Développement et de la Coopération (DDC), Fondation Vaudoise pour le Cinéma, Fonds Regio Films, Succès passage antenne World sales Climage
Released in theaters in Switzerland in September 2006
Festivals
Locarno International Film Festival; Festival Filmar en America Latina, Geneva; Festival Internacional del Nuevo Cine Latinoamericano La Habana, Cuba; Journées de Soleure; International Human Rights Film Festival, Paris;  Movies that Matter / Amnesty International Film Festival, Amsterdam; Montreal Human Rights Film Festival; Buenos Aires International Film Festival of Human Rights; Festival de Cine Latinoamericano en Berna; Festival de Cine Social y Politico de Valparaiso; Festival de Cine francofono de Buenos Aires y Santo Domingo.